Early years
Micheál de Búrca (or Michael Bourke) was born in Tipperary in 1913, reared in Castlebar and spent his final days in Westport. He was a remarkable man, married to a remarkable woman, Bridie Kelly, a Westport native from the Newport Road. Micheál was son of the respected Castlebar businessman, Thomas Bourke and his wife Madge. The Bourke family lived at Maryland House, the Bourke's in Castlebar were central to the development of the county town. The business started in 1881 included harnesses, saddlery, cycles, motorcars and cinema. The Bourkes even provided electricity to the town from their generation station in Market Square.
Education
Micheál de Búrca was educated at St. Gerald's School in Castlebar and from there went to study at the Dublin Metropolitan School of Art (forerunner to the National College of Art and Design) before being appointed an Art Inspector with the Department of Education. During this time he visited schools around the country and drew up the national art syllabus.
Directorship
In 1941, he was appointed Director of the National College of Art, directing staff whose classes he had been attending as a student. He still painted and exhibited as Director and was living proof that one could fulfil the role of artist and administrator with skill and proficiency. During the war he re-introduced stained glass, screen printing, weaving and metal work to the college.
Micheál was a fluent gaeilgeoir and was proud of his Irish tradition. He had a deep respect for travellers and mischievously signed a series of paintings 'Máirtín Maughan,' honouring a well-known local traveller. He re-introduced art to the people by arranging to have works of art exhibited in local technical schools as part of a national tour, a revolutionary concept for the time. These works included pieces by Sir John Lavery, Walter Osborne, Nathaniel Hone, Patrick Tuohy, Maurice MacGonigal, Seán O'Sullivan, Jack B Yeats, John Keating, Laetitia Hamilton, JH Craig, Harry Kernoff, Charles Lamb and Micheál de Búrca himself. The tour was an outstanding success.
During his term as National College of Art Director and member of the Royal Hibernian Academy there were constant rows about Government support for the arts. He dealt with many Ministers over the years but the late Patrick Hillery was singled out as the Minister who offered the most support to Micheál.
Lightness of touch
The Past President of the Royal Hibernian Academy, Carey Clarke, who, on opening an exhibition of Micheál's work in the Custom House Studios in Westport, referred to the artist's 'lightness of touch.' The paintings are so beautiful in their simplicity, yet they are far from simple. The layers of depth touch the soul and you walk away uplifted, with a spring in your step. Art is, and should be, accessible to the senses. This exhibition draws you in, bowls you over and gently leaves you back on your feet, smiling at the core of your being – that lightness of touch transferred from the canvas to the heart.
Inspiration
Micheál de Búrca was inspired by nature and the West of Ireland. This is reflected in his works, most of which were created in the West, often Achill Island, Mayo and Connemara, Galway. However he also painted scenes around the country, from Dublin to Galway and many points in between. Micheál had a particular liking for painting mountains and expanses of water, often in the same painting. He also painted a lot of harbour and quay scenes, depicting fishermen at work, currachs (traditional Irish wooden boats), trawlers, Galway hookers and various piers.
Medium
Micheál's medium was painting, mostly with oil on canvas or oil on board (oil based paints on a wooden board) but he commonly used watercolours (also on a wooden board) as well. The initial image was usually sketched in pencil and later filled in with colour.
Remembrance
Micheál de Búrca retired in 1971 and moved back to Westport where he died in 1985. He had a great sense of humour and loved an argument. He would fire 'from both guns' in defence of his position. Many will remember him from his retirement days in Westport and the discussions and craic at the bus office on the Mall.
He has a spring in his celestial step these days, the glint in his eyes ever sharper as he proudly parades the heavens, enjoying us enjoying his legacy.
He can be compared with the painters associated with the west of Ireland and can challenge the current dominance of northern landscape painters. His paintings depict numerous scenes from Achill, from Lough Caoite to Keel and Purteen Harbour to the Minaun Cliffs. Connemara, Galway, and Kilkerrin scenes are also depicted including Croagh Patrick.
Below are two articles featuring Micheál de Búrca.

Connaught Telegraph article. (2014)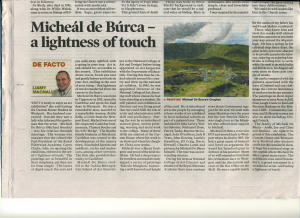 Mayo News article. (2009)